Why Should I Purchase An AED?
Each year, over 350,000 Americans die from Sudden Cardiac Arrest outside of a hospital. Cardiac arrest is a condition in which someone's heart suddenly stops beating effectively. Unless quickly treated, a person who suffers cardiac arrest will die. According to the American Heart Association, the key to surviving cardiac arrest is early CPR and rapid use of an "Automated External Defibrillator" or AED.
Why do people suffer cardiac arrest?
Common causes include:
drowning,
heart attack
choking
electrocution
drug overdose
excessive physical activity and contact sports
People of all ages are at-risk.
How can I treat Cardiac Arrest?
The most effective treatment for cardiac arrest is early CPR and a shock from an AED called "defibrillation." CPR keeps blood flowing to prevent brain death, while the shock from an AED can reset the heart allowing it to return to a normal rhythm.
CALLING 911 IS NOT ENOUGH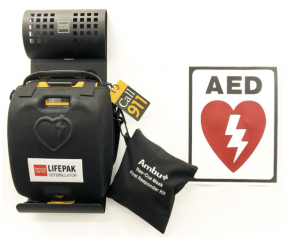 Ambulances can take a long time to arrive. In NYC, the average response time to life-threatening emergencies is over 9 minutes.
For each passing minute without CPR and AED, a person's chance of survival decreases 7-10%.
AEDs are SAFE
An AED will not deliver a shock to someone who doesn't need it.
An advanced computer analyzes the victim's heart rhythm to determine if a shock is required.
AEDs are EASY
AED's are designed for people without medical training.
Simply turn it on and a clear voice will walk you through the process, step-by-step.
AEDs are EFFECTIVE
If you put an AED on a patient within the first few minutes of a sudden collapse, their chance of survival could be higher than 80%.
Although cardiopulmonary resuscitation (CPR) is a vital step in the lifesaving process and can keep blood flowing to the heart and brain for a short time, the shock from an AED is usually needed to save a life.
Frontline Health can provide quotes and guidance for purchasing an AED. For more information, please contact our team.
Empower yourself with real knowledge on how to use an AED and perform CPR – Take a CPR certification class Today!